---
Coding Games for Kids: The Best Way to Teach Computer Programming
Coding is the occupation of the future. In fact, around 7 million job openings in 2015 required coding skills, so it is no mystery why people want their children to acquire the necessary computer programming knowledge and expertise while they are still young.
Nevertheless, in order to get kids interested in coding at an early age, it is imperative to carefully consider the methodology.
Coding can be challenging, and if taught the wrong way, it can seem like an endless grind akin to reading a assembly guide with impossibly long text.
Courses which  to be the most effective are ones that incorporate every child's favorite past time – coding video games. 
From my experience, there's no better way to engage a child in a code-oriented lesson than through a game – this way they hardly feel like they are studying at all. Not only do they get to explore what's beyond the boundaries of some of their favorite games; they are also motivated to contribute with their own ideas, all while learning the basics of coding languages. It's a perfect solution for acquiring knowledge in a fun, creative setting.
Teaching coding through games teaches rigorous computer science concepts such as loops, functions, arrays, switch statements, inheritance, and more. These are the same concepts used in building business and other consumer software applications. They are indeed transferable skills.
Here is a list of companies that use coding games for kids as a highly effective way to teach children computer science. We hope that you enjoy!
Scratch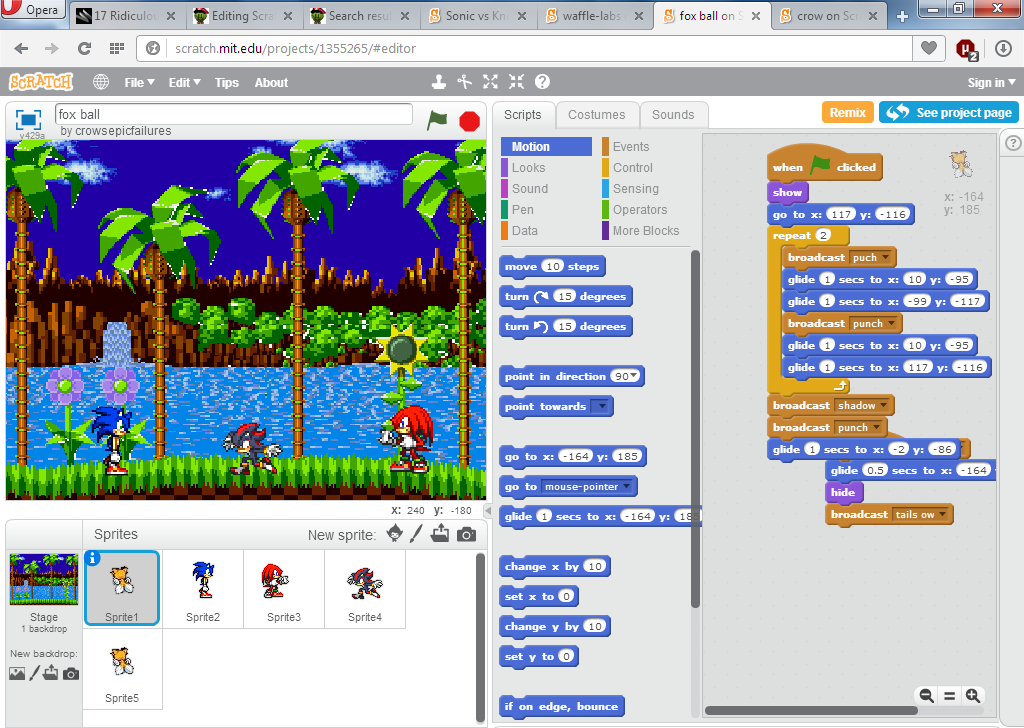 Scratch is a programming language designed as a great starting point for learning more advanced coding languages, and computer programming concepts in general. While coding in Scratch, kids are able to design a variety of animations, stories and games that they can later share with others who are a part of this games' community.
Although it is initially intended for children between the ages of 8 and 16, it proved to be a great learning resource for kids of all ages. Through fun and play, they will quickly learn how to think creatively, but at the same time systematically.
On Scratch website, you can find a wide range of useful online tutorials, video and PDF guides to help you get started.
What we particularly love about Scratch is the way that it allows kids to get creative while learning how to code. Students get to build a wide variety of coding games for kids,. and make important decisions about character art, enemy behavior, user controls, sound effects, and more.
 CodaKid
CodaKid is an  award-winning kids online coding school which teaches kids how to build professional grade video games, apps, websites, and more.
As far as coding games for kids, CodaKid's projects are some of the most complex of the list here, but for the right type of student, they are immensely satisfying.
CodaKid's game-based, self-paced online classes include live support through messaging and screen share, which means that although you may be sitting in front of the screen alone, you can count on someone to provide guidance every step of the way.
CodaKid's online coding courses focus around internationally popular games, such as Minecraft and Roblox, and they also teach kids how to create games using professional game engines such as Unreal 4 (the tool used to make Fortnite).
Kids learn kids coding languages using these professional tools, which makes them feel like real software developers.
CodaKid is a great resource when your child is ready to move past visual block coding, and wants to create custom games, apps, mods, websites, and more.
The lessons can be taken by absolute beginners and there are many resources for experienced coders. The platform has affordable monthly subscriptions for as low as $21 per month, which includes unlimited access to hundreds of hours of student projects.
Blockly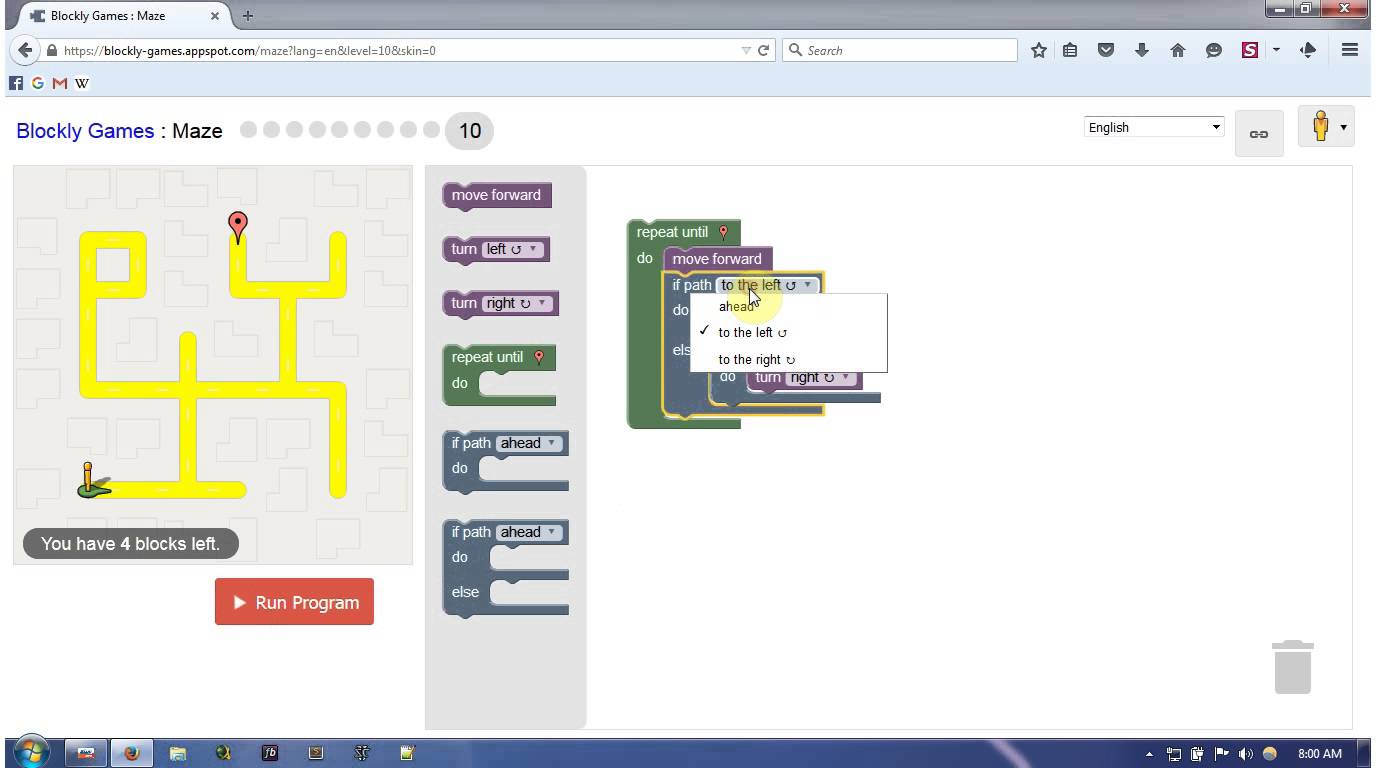 Blockly is an open source software appropriate for children age of 8 and older, because it requires them to be able to read. However, it is designed for kids who have no programming experience and represents a great starting point for learning text-based coding languages.
As its name indicates, the game consists of blocks which contain lines of code that the kids simply drag and drop onto a screen. What is great about it is the fact that they can run a program they create and see the result of their efforts immediately.
The code they write with blocks instantly translates to JavaScript, Python, PHP, Lua, Dart and XML. That's precisely what makes Blockly so popular among young learners – it is simple, entertaining, and at the same time it educates kids about the fundamentals coding languages. This way they boost their problem-solving and logic skills. If kids notice that the program they are creating doesn't perform the actions they want them to, they simply go back to the dashboard to correct their code.
Code Combat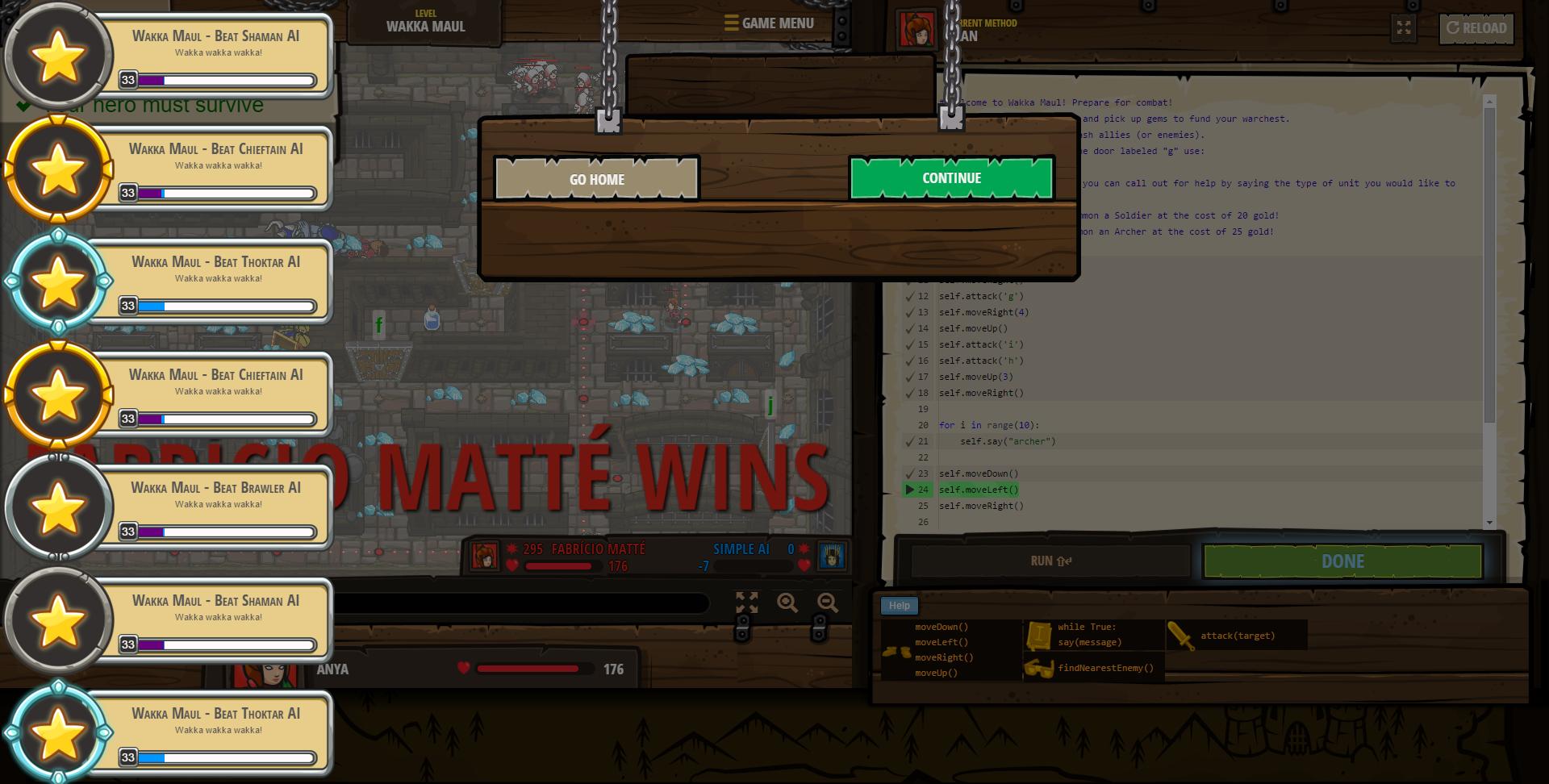 If you want your kid to advance in their knowledge of coding, CodeCombat is fun, game based resource that might be a fit. It is meant for kids age 8 and older who are already familiar with some fundamentals of this coding language.
As far as coding games for kids, CodeCombat fits the bill, as the entire coding experience takes place while your child is playing a game. The user uses lines of code to move the character past a number of increasingly difficult challenges.
As soon as you open the website, you notice the simplicity of the interface; only few minutes into the game and you'll witness gorgeous graphics and fun RPG inspired coding challenges.
Code Combat is designed to provide a fun and engaging way to practice syntax. The kids are able to see what their code does immediately after they write it, and that way they don't waste time proofing long lines of code to find a mistake. This not only hastens the process of learning, but minimizes stress and frustration, keeping the kids engaged longer.
Code Monkey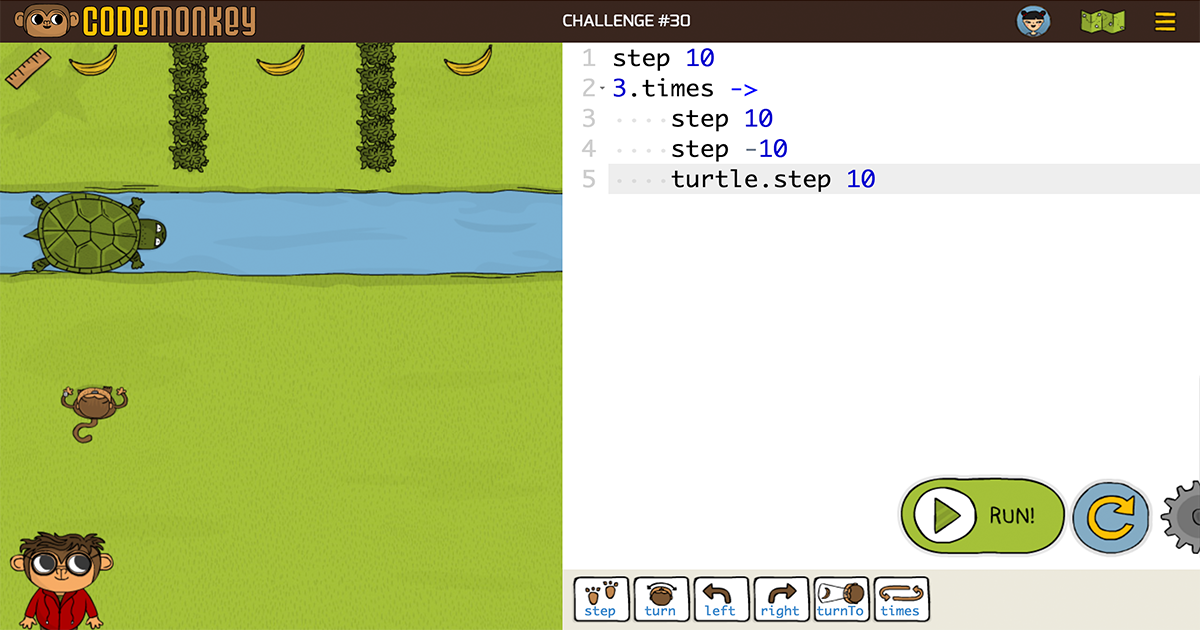 Code Monkey finds itself on our list as it is primarily a coding game for kids. Instead of getting a flood of unfamiliar coding concepts, you start by playing a game in which you solve a variety of challenges by writing code in a text-based editor. The goal of the game is to help the monkey cross obstacles, or catch and collect bananas.    
What makes it so simple is the fact that it uses CoffeeScript, a language that has a similar syntax to English, but compiled into JavaScript.  
Code Monkey requires no previous coding experience. As they are leveling up, kids gradually acquire enough knowledge to create games of their own.
Code.org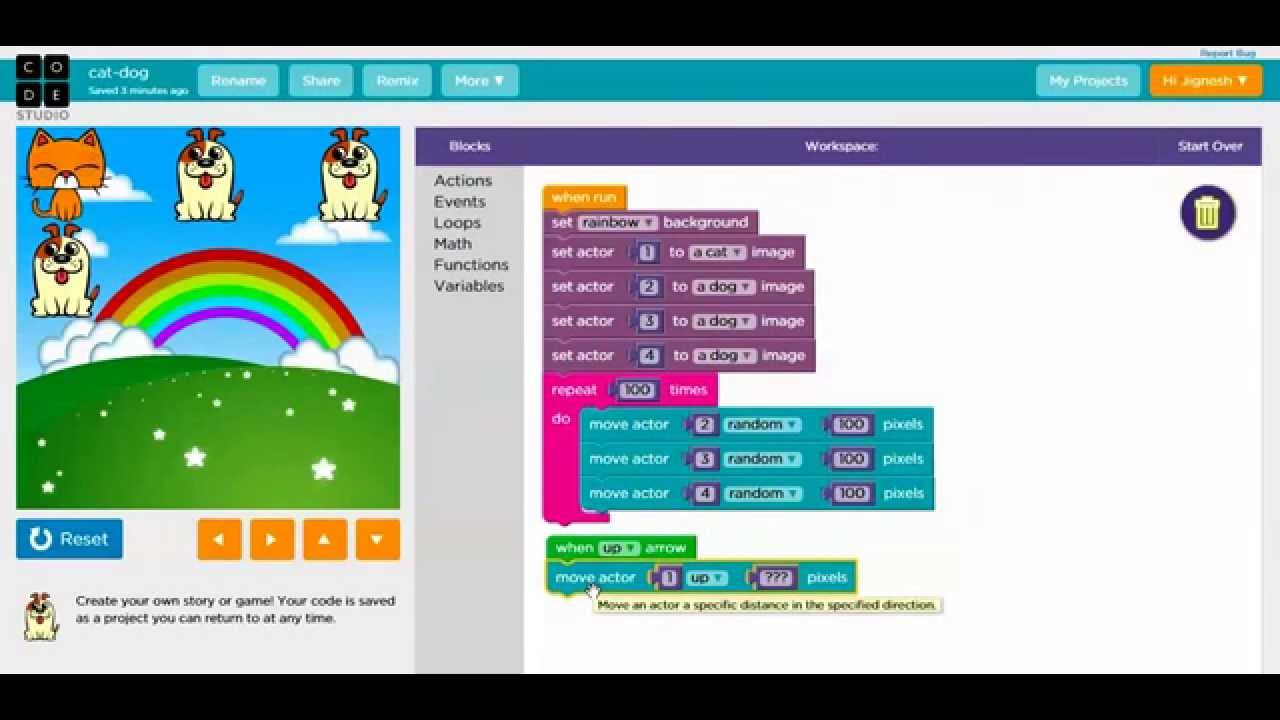 Code.org is a non-profit organization which aims to introduce kids all around the world to computer programing. On their website you will find a wide range of game-based coding lessons that are segmented in accordance with students' grade and age. Whether a child has previous coding experience or not – it doesn't matter. Code.org offers a series of several courses, after which kids gain relevant skills to create their own games.
This organization stands behind the famous Hour of Code which engages students from around the world to participate in innumerable activities. Even though the event takes place each year during an education week, the website offers coding games for kids you can play on all devices (even unplugged).

Codemoji
Codemoji is a computer programming curriculum designed for elementary school students. What sets it apart from other coding games for kids is its unique approach. Namely, it teaches kids basic programming skills using emojis, which represent the primary language for communication among today's youth.
In Codemoji, every element of syntax has a corresponding emoji, which makes it much easier for younger learners to comprehend. Instead of focusing on syntax or proficient typing, kids redirect their attention to creating and learning HTML, CSS and JavaScript.
The goal of the game is to show children that coding is no more complex than casual chatting. Simplifying otherwise abstract concepts accelerates the process of learning and retention.
Stencyl
Stencyl is a coding game that allows you to design your own games. Its interface resembles Blockly and Scratch – using a drop-down-technique, you order the blocks of code to create game characters and environments.
You can also write a block of code yourself and share it with other Stencyl players, who can then use it for the creation of their own worlds.
The game is available for desktop and mobile devices, and what kids love about it the most is the fact that the game you create on one device can be played on any other they carry with themselves at all times.
LightBot
While it may seem that LightBot is developed for first-time coders, the further you level up, the more you realize the game is a great logic activity for older players as well.
As you provide guidance for the robot to help him light all the blue tiles, you are actually subconsciously introduced to coding basics. The commands are fairly simple, but throughout the game you encounter some of the computer programming terminology, like loops and conditionals.
Coding Games for Kids – Wrap Up
Thank you for taking the time to read Coding Games for Kids: The Best Way to Teach Computer Programming from beginning to end. As you can see from everything we've discussed, there are a wide variety of coding games for kids that help even the youngest of learners break into the world of computer programming.
Did we miss anything? Do you think there are some other coding games for kids that deserve a place on this list? Please share your ideas and experiences in the comments section.
Share the post "Coding Games for Kids: The Best Way to Teach Computer Programming"